OK, Seriously. This is a picture of a peach pit and surrounding carpet "blech" that my 6 year old discarded in front of the lazy boy chair.
You would think that, as co-owner of A Brighter Day Chem-Dry that I can just clean my carpet any old time that I want. Really it can be very difficult to get my husband to agree to have one of the company vans over to my house because he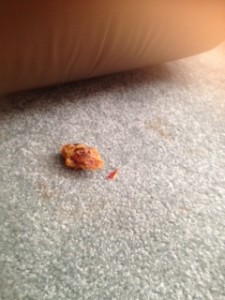 hesitates to slow service to our customers just for a peach pit. So I, like you, have the potential to "collect stains" in between professional cleanings. Not every stain requires a call to your local Chem-Dry professional, hence my reason for writing about my favorite product.
With Professional Strength Spot Remover, I have the power of Chem-Dry at my fingertips. I can quickly and thoroughly remove the most stubborn spots from colorfast carpets, upholstery, and auto interiors by using our powerful carbonating process. Professional Strength Spot Remover's unique bubbling action lifts the spot to the surface unlike any other spot remover making it easier to remove (this one's not intended for grease and oil spots.)
Safe and non-toxic for your family and pets and no harsh solvents that can damage your carpet
No dirt-attracting residue so spots won't reappear
I've even used spot remover as a pre-wash spotter for tough laundry stains.
A can under the sink is a must have for every home or business. I know I would not go without my favorite product: Chem-Dry Professional Strength Spot Remover.