Upholstery Cleaning Calgary AB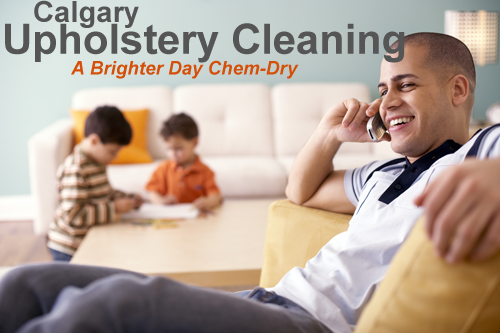 Calgary 587-885-0155

Upholstery Cleaning Calgary AB
The most extraordinary upholstery cleaning Calgary, AB offers is found with Chem-Dry. Spots and stains might take over your upholstery in a variety of forms, for instance soil, marker, or wear marks. With optimal training, A Brighter Day Chem-Dry will help your furniture look its very best again. Our progressive strategies make it possible to bring your home back to a healthy condition that lasts longer.
Calgary Upholstery Cleaning
The happiness of our customers is important to A Brighter Day Chem-Dry after Calgary, AB upholstery cleaning appointments. Before we begin cleaning, we speak to our customers concerning the areas which are a problem so we establish sensible expectations. In case you are left disappointed, we request you contact our team so we have a chance to try to make things right. With well-informed employees, superior equipment, impressive cleaning products, and acceptable prices in hand, we're the ideal furniture cleaners for you!
Using the power of carbonation as a substitute for harmful cleaning agents, we can easily leave you chairs and couches cleaner for a longer time. Many cleaning suppliers utilize strong treatments that will leave behind a filmy residue that attracts grime and tends to make your property dirty just after. Our process results in virtually no dirt attracting residue.
Make sure to ask about our product called Protectant. This product is beneficial for preserving the furniture items in between professional cleaning visits. This product shields against upcoming spills and stains and makes cleanup easier. Quite a few furniture items include a factory fabric guard, but all protecting agents wear off with time and use.
For Calgary, AB couch cleaning that is unique and effective, give A Brighter Day Chem-Dry a try!