Upholstery Cleaning Lethbridge AB
The best upholstery cleaning Lethbridge has to offer is a professional furniture cleaning service provided by Chem-Dry®. Knowing the value that your upholstery items hold, A Brighter Day Chem-Dry will treat your home right. The satisfaction of our customers is ensured with our innovative cleaning solutions and methods. For a unique upholstery cleaning service in Lethbridge that will leave you with faster drying times and a safer, deeper clean, look no further than A Brighter Day Chem-Dry.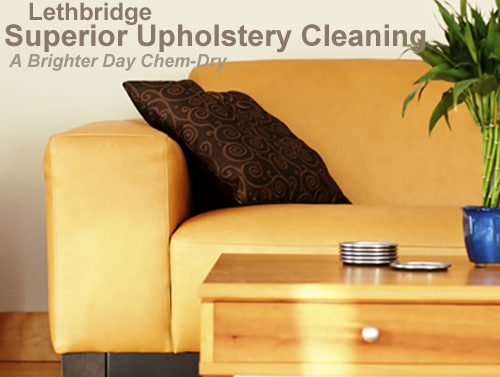 Professional Upholstery Cleaning Lethbridge
Upholstery cleaning is important for a clean and healthy home; just think of how frequently furniture items come in contact with skin. The residue left behind by many professional upholstery cleaners can make your furniture sticky, stiff, uncomfortable, and may even cause skin irritation. Using the power of carbonation, rather than gallons of soapy water, A Brighter Day Chem-Dry relies on just the right amount of solution and water. Our method makes it possible to evade the dirt attracting residues so your home is left with soft, comfortable, and deep cleaned furniture.
We can provide the most effective upholstery cleaning service Lethbridge has. Chem-Dry technicians will measure and evaluate your furniture before beginning any cleaning. Damage to your furniture is easily avoided because of our ability to clean virtually any upholstery material safely. When professional cleaners use soap and water, the dry time is generally 3-4 days, but with the Chem-Dry method, your upholstery items will be dry within hours! This keeps your home safe, as the risk of mould and mildew development is greatly minimised.
Couches and chairs display how frequently they are used with the stains and spots that accumulate. The basic cleaning solution that we use is able to get rid of most stains, but should you wonder how to get rid of upholstery stains that are more difficult, we've got all the right solutions. The best product for the most effective removal will be applied by our technician after a careful evaluation and testing of the stain – all without damaging the upholstery material.
For the best upholstery cleaning Lethbridge offers, call Chem-Dry professionals today! The deepest clean possible and fast drying upholstery is possible with A Brighter Day Chem-Dry!
A Brighter Day Chem-Dry
(403)394-3370
155 S. 150 W
Raymond, AB T0K 2S0