There are many definitions of the word Family and what it means. The dictionary version is: 1) persons of common ancestry 2) group living together 3) parents and children 4) group of related individuals.
Some families are close and some are distant.  I like to think most are caring, loyal, and supportive.  They are there when you need them, and that is where my story leads to the feeling of family I get from A Brighter Day Chem- Dry.  Let me tell you why.
In July 2012, my husband and I relocated back to Alberta. We moved to an area where we had no family and no friends.  In January 2013, I began working for A Brighter Day Chem-Dry.  I had only been with the company five months when my husband was involved in a major motorcycle accident.  He spent a total of 92 days in hospital and had undergone five surgeries to put back together what was broken. He could not use his arms, he could not walk (he was a mess), then after being released from hospital, the recovery had to start. This is still ongoing and it will be a year in May since his accident.   He will never be a 100%, but he is alive and back riding motorcycles once again.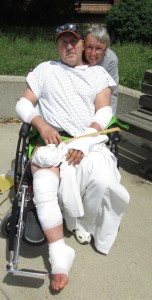 Roy and Pam Wood, the owners of the company, were there for us.  They didn't worry about my not being in the office. They didn't look for someone to replace me.  They worked with me and accepted what I could give in way of time in the office.  For the first little while, that wasn't much; I needed to be with my husband, and even after he was stable, he still couldn't feed himself. There were trips each day to feed him lunch and supper.  I managed to get the hospital to feed him breakfast. Roy and Pam were very helpful.  They gave me connections to people who could assist us during this difficult time.  They gave me moral support.  They understood when I was having a bad day.
They gave me a sense of family. They care about their employees and their families, and I am happy to be a part of this team.
Wendy
Office Administrator